Ignite

We have some exciting news for everyone.We recorded our 2016 ICCA set the summer of 2016, along with some other great songs.

Our Album Includes:

Cracked Chains
Expensive
Weathered
Talking Body
Islands

We have published our new album Ignite on Spotify, Apple Music, and Itunes. If you would like to listen to us rock out on your devices just search Gold Vibrations a Capella, and you will find our fantastic album!
---
Recording. For real.
GV's next endeavor this summer is professionally recording all three of our ICCA songs in partnership with Voices Only Productions. While we expect to record late May and early June, the final product of these songs, which we hope to eventually turn into a five-song EP, may not be available until late summer or early fall. Stay tuned on our social media for more updates!
---
ICCA 2017
Quarterfinals:
GV once again took home first place at the University of Chicago during the 2017 ICCA Quarterfinals on January 21st, which brought them to semifinals. Senior member Brian Baylor took home three awards, which included "Best Arrangement" for Freedom/Bottom of the River (Beyonce/Delta Rae), "Best Soloist" for Freedom/Bottom of the River, and "Best Vocal Percussionist" for What's Really Good (Brayton Bowman).

Semifinals:
GV was honored to compete again at the ICCA great lakes semifinals at the Roosevelt Auditorium theatre in Chicago, where they sang alongside some of the best Collegiate A Cappella groups in the Region.

Check back soon to follow GV's road to ICCA, 2018.
---
ICCA 2016
Quarterfinals:
GV took home first place at the University of Chicago during the 2016 ICCA Quarterfinals on January 23, which further advanced them to semis. Stefanie Sambrano and Brian Baylor took home two awards for Best Choreography and Best Solo, respectively.

Semifinals:
GV took home first place at the Roosevelt Auditorium Theatre in Chicago during the 2016 ICCA Semi-finals, further advancing them to finals, which was held in New York City at the Beacon Theatre on Broadway. GV scored 394 points, beating the second-place group by 18 points.

​Finals:
The group was humbled and honored to have made it this far in the competition, and to have been able to compete against so many talented groups throughout the region. GV represented some 50 plus schools in the ICCA Great Lakes region. ICCA Finals will be featured on Sing It On, which will be available on Netflix. Look for our final's set, as well as many of our members featured in the ICCA group number, I Wanna Dance With Somebody, arranged by Grammy award-winner Ben Bram.

A link to Varsity Vocals for more information about ICCA:
http://tinyurl.com/zp83xmy
---
In the Press
Click the links below to read some of our press coverage!

​
---
Our social media is the best way to keep up-to-date with us and get involved in our events throughout the year.
This is also a great opportunity to meet and hear about some of our members.
Powered by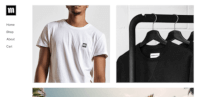 Create your own unique website with customizable templates.